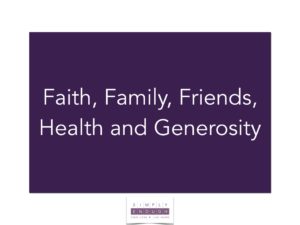 Dear Blog Readers,
I miss you! It's been too long since my last post! Believe it or not, I'm working hard on several topics but as often happens, life got in the way. Specifically, me getting sick! So, this note is to let you know that yes, I am still here!
My days have been spent trying to get everyone back into the groove of work and very soon…school. This has proved to be no easy task and I appreciate your patience! I'm focused on taking care of my family and getting healthy. We're doing ok, but it's taken longer than expected.
Remember My Values? I shared these before: Faith, Family, Friends, Health and Generosity. Well, I wouldn't be honoring them if I didn't let my blog take a backseat once in a while. So as you might expect, this will be a short post just to let you know that I haven't forgotten you. I hope to be back to normal soon.
That said, I did have the opportunity to speak to several amazing Mom's Groups in the last year and tell the story of Simply Enough…inspiring others to Own Less and Live More.  Also, we spent the spring traveling for three months and sharing experiences that will last a lifetime. During the trip, I wrote notes so that I could remember all the details. I'd love to speak to your PTA, church group or organization.
I can't wait to share more of those notes with you….along with many other ideas that I have for Simply Enough in the coming months. We photo-journaled all the amazing places on Instagram!
I believe it is going to be a great year….I really do.
In the meantime, I hope you'll spend some time on the website and my social media pages.  There's a lot to see. Below are some links to get you started.
Recommendations from my Amazon Store – These are

only

 products that I use and recommend. The curated list of items is at no additional cost to you, but I do receive a small commission for any purchases thru my site. In turn, this helps me maintain my website and continue writing. I hope you'll check it out and let me know if you have questions.
Last but not least, sign up below to subscribe to my email list. You'll be the first to hear about new content on my website and subscriber only giveaways.
Happy Reading!
Like what you read?
Sign up to receive our free newsletter and latest blog posts!
No spam! We promise!