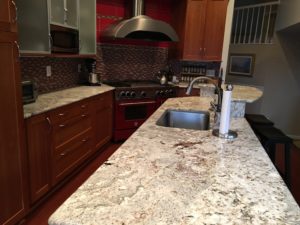 I love my empty kitchen counter. Not because it's the result of hours of decluttering but because it's ready for the next opportunity. My kitchen counter works hard so it doesn't always look like this.
At the end of the night, I reward its efforts by putting everything away in the cabinets and cleaning it. Empty counters clean up easily without obstacles like appliances and decorations.
Clean Counters mean:
I have space to process papers and tackle my to-do list.

I can whip up pizza dough in 15 minutes and roll it out for dinner an hour later.

Home cooked meals served more often.

Lunches staged for the next day and spare us a crazy morning.

Grocery bags have landing spot

My son can work on a school project
Benefits of Clean Counters
I could go on, but you get the idea. Once upon a time, our cabinets and pantry were filled to the brim. Being an ordered person, I found myself reorganizing the pantry every week. When it was time to cook dinner, we pulled several items onto the floor just to retrieve a pan. The top shelves housed just as many dishes as their lower companions.
Counters were cluttered with appliances, canisters and cutting boards. Doing anything in the kitchen required rearranging. I said to myself, "It shouldn't be this hard." That's when we counted dishes in our cabinets compared to the number of people residing in our home…..3. It was pretty obvious that we could live with much less.
My husband loves to cook and I've even picked up a recipe or two. I attribute my newfound interest in cooking to the space and time created by living simply. When I established five Values , two were Family and Health. Family dinners became a real priority and I need clean counters to do so.
Own Less, Entertain More
I know what you're thinking, what about entertaining? We still do that, a lot. There is no correlation between the number of place settings you own and the frequency you will use them.
In fact, I would argue an inverse relationship. (Less Stuff = Neater House = More Parties) We entertain often and in large numbers. 100 people attend our annual holiday party every year. We leverage some paper products and always borrow versus buy. Furthermore, the clean counters make food preparation feasible as 4 people can work simultaneously in the kitchen.
The "New" Kitchen
A reasonable number of dishes now reside in the cabinets. Appliances live in cabinets versus on the counter. Some pantry shelves are empty. We no longer bulk shop at stores like Costco. We diligently use food inventory and spend less overall. Additionally, we challenge the need for kitchen gadgets. As appliances wear out, we question whether to replace them. A crockpot, bread maker and flour sifter, among other things were downsized.
What items would you like to remove from your counters? Try creating some space inside the cabinets first. I promise, you will love Clean Counters and the endless possibilities.
Like what you read?
Sign up to receive our free newsletter and latest blog posts!
No spam! We promise!