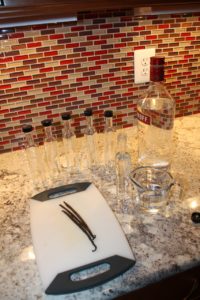 Every year, I make Homemade Vanilla Extract as Christmas gifts. It's a hit with friends and family and super easy to make. The only catch….it takes time to steep. About 4-6 weeks before you can use it in baking. And the longer the better!
If you are reading this in December, you can still make this gift. One year, I offered it with the disclaimer to wait 4 weeks. Don't let perfection be the enemy of good.
I like to order supplies in early November. Needing to make this gift early actually helps with the holiday crazy. Vanilla jars sit happily in the pantry, while I carry on managing the December calendar of parties, chorus concerts etc.
Here's your shopping list:
Another budget friendly option is to reuse condiment or pickle jars. Wash them thoroughly with soap and hot water. If any smell remains use vinegar, water and baking soda.
You're ready to fill jars
1 cup of vodka

2 vanilla beans

Slice the beans down the middle
Drop it in the jar and close the lid.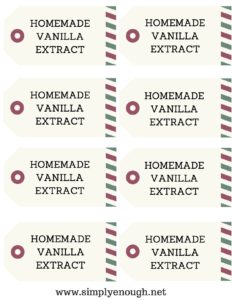 I made a simple printable for you to use. Tie the tags with ribbon or twine. Use whatever you have on hand. Hand-write the tags if you do not have a printer. Give them away without a tag…it's ok.
Store the jars in a dark cabinet, away from sunlight and let them do their thing until Christmas. They make a great hostess gift so I keep a few on hand even after Christmas. The week between Christmas and New Year's, my husband and I visit neighbors and friends with little gifts like these.
We make more recipes that I'll post in the coming weeks such as Mason Jar brownies, dill pickles, pepper jelly and more. I'll also share my tips for celebrating a more peaceful holiday season too.
Want to follow along this holiday season? Subscribe to my blog below where I'll share a weekly to-do list approach to the holidays.
Like what you read?
Sign up to receive our free newsletter and latest blog posts!
No spam! We promise!