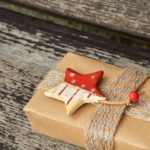 Today is November 27 and my house is not decorated for Christmas. If you're "undecorated" like me, do not worry! We have plenty of time. I admire my friends and neighbors who accomplished this task while eating turkey leftovers.
As a Christmas decor purist, I find "post-Thanksgiving" the only appropriate time for decorating. I cheer for stores like Nordstrom's that wait until after Thanksgiving. My decorations rarely appear before December 1st. Everyone survives. Christmas is not ruined.
Gratitude at Thanksgiving
I banter with my friends and chide them for watching Hallmark Christmas movies before Thanksgiving. We text competing emojis throughout November.
Merry Christmas! 🎄⛄️
No! Not Yet! 🍁🍗
My resistance is aimed at the hustle and bustle we call the "Holiday Season." As a society, we move right past the gratitude holiday, Thanksgiving, into the shopping holiday, Black Friday. Kudos to REI who closes on Black Friday and encourage us to get outside.
So now what?
Skip Christmas because I fell behind?
Don't decorate?
Of course not!
For several years, I've simplified and enjoy the holidays more because of it. As a family, we focus on what matters most and give to those with less. This year will be no different and frankly our story just gets better and better as a result.
Set Priorities
If you're wondering "how do I write a different holiday story for my family? How do we slow down?" Start by setting priorities around your most meaningful traditions. Choose holiday traditions that serve you.
I use a helpful planner by Simple As That. It confines our holiday "busyness" to just two pages. I divide my Christmas preparations into 5 weeks with a single focus for each week. The Holiday Planner complements this approach.
My December Weeks:
Decorating

Holiday Party Prep

Gift Making and Shopping

Wrapping and Baking

New Year's Cards
Week 1 – Decorating
Start with decorating. Please, do not spend 40 hours decorating. No one can dedicate an entire week to decorating, nor should we. (Think un-decorating for 40 hours in January.)
Many minimalists prefer no decorations but our family does what works for us and so should you. We own six boxes of decorations and downsize a little each year. I carefully scrutinize each item. Is it labor intensive to set up? Does it take up a lot of storage space? These questions make items easy to pass on.
Please know that I love Christmas! I also love Christmas decorations but over the past five years I have cut the number of bins from 15 to 6. The current volume can be set up in just 1 day. Theses bins are the same style and shape and stack neatly together. Our decorations and lights sparkle through Epiphany (or longer).
In the past, we simply owned too many decorations. We rushed to clean up before returning to work in the New Year. Now, it's easy to pick an evening in mid-January and clean-up takes just a few hours. My son loves to help decorate and he's good at carrying boxes too.
Decorating is just one part of our Journey to Advent. We take time to enjoy the experience instead of feeling like we've failed to create a Norman Rockwell scene by no later than November 30.
Last year, our normal decorating schedule delayed even further due to a last minute road trip. Not being one to sacrifice experiences, I jumped into the car and left the to-do list at home. Driving 20 hours gave us the chance to enjoy hundreds of beautiful Christmas lights along the way, a pleasant surprise.
The Nativity
Admittedly, the night before we left, I looked at the bins of decorations and considered staying up late to set them up. But sleep is not optional since Self-Care is one of my Rules for Happiness. As I stood surveying the containers, I noticed one on top….our Nativity.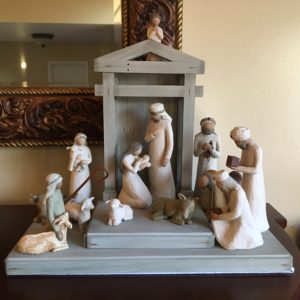 Setting up the Nativity that evening was achievable. I carefully arranged the figurines in a few minutes. Smiling as I passed it each day, proved that Less really is More. The next day, my son asked for his Advent Calendar which I located easily in 6 clearly labeled bins. It's a simple calendar with blocks that you turn to change the number of days until Christmas. No candy, clutter or tchotchke because we've set the example and expectation.
What's your favorite decoration?
Consider challenging yourself to decorate in one day and just stop. I'd love to hear your experience.
Like what you read?
Sign up to receive our free newsletter and latest blog posts!
No spam! We promise!