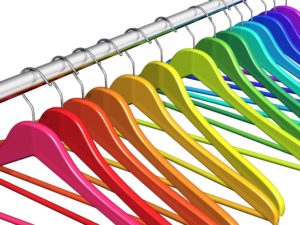 Overwhelmed with clutter? Too much stuff everywhere!? Where to begin? I always suggest that clients start with their clothing closet. And today, I'm sharing tips as well as a video (my first video!) for how to simplify and organize your closet.
If you're new to the decluttering and downsizing game, remember:
Start with your own stuff – Others will come along in time with your example
Start small and gain momentum – You didn't acquire this stuff overnight, so just choose a spot and get started.
Start with spaces you use daily – Experience how freeing it feels to have less.
Start with your own stuff
Your purse, briefcase, diaper bag or car are all great places to start. If this isn't enough of a challenge, then move on to your clothing closet. Here's a video of how I organize my clothing closet. 99% of my clothes are in this regular sized master closet. (With the exception of winter coats, snow pants and rain gear.)
I use one style of hanger to maintain a cohesive, clean look. Like-colored items hang together while casual clothing rolls nicely in the drawers. You can achieve this same result with bins but be sure to downsize and streamline your wardrobe before purchasing any organizing tools. Remember the goal is to reduce clutter not add more. Most organizing problems occur from volume not the type of storage. My closet even houses a few sentimental stuffed animals because "some not none" is my philosophy for these items. Read more about how to handle Sentimental Stuff here.
Start small and gain momentum
Conquer something small first like your purse or the car. Then, move on to the clothing closet. Not sure that you're ready to tackle the entire closet? Then consider streamlining one season at a time. Or perhaps select your favorite 10 t-shirts and 2 favorite pairs of jeans and donate the rest. Project 333 created a fantastic system for establishing a capsule wardrobe by season, Spring/Summer/Fall/Winter. Essentially, you choose 33 items for the season, hang them in your closet and box up the rest.
I follow a modified version of this because I found that there are just 2 seasons where I live in the mid-Atlantic. Fall/Winter and Spring/Summer I have approximately 50 items per season (not including lounge wear, pjs and exercise gear) but only rearrange the closet twice a year. Some staple items like black and white t-shirts count in both seasons which further reduces the amount of clothing that I have.
With each season change, I donate the items that I didn't wear. As a result, I LOVE my closet. Laundry is a breeze to put away. I'm rarely stressed getting ready in the morning or for a speaking engagement. The space brings a feeling of peace and calm to my bedroom which in turn helps me sleep better too.
Start with spaces you use daily
Nothing feels better than standing in front of your closet each morning and seeing only items that you love with room for the clothing to hang wrinkle-free. Simplified wardrobes make getting ready easier because the clothes you wear most often are not buried under the stuff that you don't. Since downsizing all my clothing to fit in just this closet (4 empty dresser drawers!), I upgraded my wardrobe and dress much better. I'm judicious about what I buy and only if it serves a specific purpose. Certain colors no longer live in my closet but that also simplified the accessories like jewelry, shoes and purses. Having a closet full of clothing that I already love keeps impulse buys at bay too. No more "retail therapy" and unnecessary spending which means less clutter coming back into my home.
Still need some incentive or help getting started? This month at Simply Enough, we're doing the #minsgame. Check out my Facebook or Instagram for details and join us. So, for Day 3, I am donating a sock organizer and two pieces of clothing. This ongoing review of my clothes and routine donations keeps my closet in check. Once you've created a beautiful capsule wardrobe and organized closet, you'll never go back!
Thanks for reading and watching the video. I'd love to hear what you thought! And sign up below to receive more organizing and decluttering tips from Simply Enough.
Like what you read?
Sign up to receive our free newsletter and latest blog posts!
No spam! We promise!