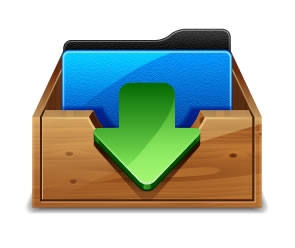 Even in a digital world, paper organization alludes us. Paper clutter is ongoing. And like yesterday, we need to create a habit for processing paper daily.
With an established Paper Filing System, we live about 90% paperless. We leverage technology to support this goal. Once we got control of the physical paper, the paperless part became a reality.
Paper clutter can be a daunting task. So, I'll break it into two parts.
Part 1 (Day 10)- Build a Paper Filing System and Establish New Habits

Part 2 (Day 11) – Home Office and Filing Cabinets
Stop The Paper
Recycle everything you can immediately. Toss junk mail, catalogues and advertisements in the recycle bin before you enter your house. I have yet to experience a time when I regretted throwing away a coupon. If you want to prevent catalogues from being mailed to you in the first place, use catalogchoice.org to unsubscribe. Lastly, register at optoutprescreen.com to eliminate credit card and loan pre-approvals.
Elect Paperless Options
More and more companies offer this option to reduce postage costs. Convert Bills, Insurance Explanation of Benefits (EOBs) and Financial Statements to electronic versions whenever offered.
Stop Printing
When you need to keep a receipt or confirmation page, try Print to PDF. Notice the Destination (Printer Name) in the Screenshot below. See how I changed it to PDF? Go ahead and try it! Just click print on your web browser. When you select PDF, the Print button becomes Save and you can choose a folder on your computer.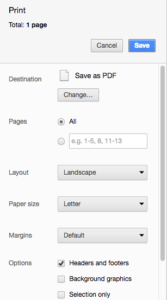 Inbox
Set up an inbox for papers only. Your inbox functions just like the landing spot. Place it where everyone will see it. Train your family to use the inbox. My son knows to bring school papers to "Mom's Inbox." Select a small basket to ensure routine review. Commit to going through it at least once a week.
File Folders
In addition to my inbox, I have a small number of file folders. These are merely to organize my process. Papers cycle in and out. They are not intended for long term storage. All long term filing is scanned to our digital filing system. Here are the folders:
Current

– Important papers I will need to locate in the future but have no immediate action. Ex: Invitations, field trip forms, school photo forms etc. I digitize whenever possible.

Action Items

– Bills to pay, forms to fill out, online registrations etc.

File/Scan

– Important papers requiring a digital record. I scan batches of paper once the folder is full.

Shred

– Dispose of papers containing personal info properly.
So for today's challenge, let's get rid of some paper!!!
Decluttering and Downsizing Challenge Day 10
Recycle/Toss

all

catalogues, junk mail and coupons in your house currently
Recycle/Toss

all

non-current magazines
Use

catalogchoice.org

to unsubscribe from catalogues
Register for

optoutprescreen.com

Set up a small Inbox for important papers
Too easy? Keep going! Remove all the paper that has accumulated on flat surfaces in your house (ie; kitchen counter, table, desk). Collect it in a laundry basket. Sit down in front of your favorite Netflix binge. Go through every piece of paper with a trash can nearby. Digitize anything you really need to keep and toss the rest.
Use the Simply Enough Filing System to build just a few file folders.
Get ready for more paper decluttering tomorrow when we tackle the Home Office!
Want to tackle paper clutter?
Sign up for your Free Filing Printable!